MIXED REMIXED FESTIVAL REVEALS 2015 SCHEDULE
(Los Angeles, CA) The Mixed Remixed Festival will take place at the Japanese American National Museum in downtown Los Angeles (100 N. Central Avenue), June 13, 2015.
The Festival celebrates stor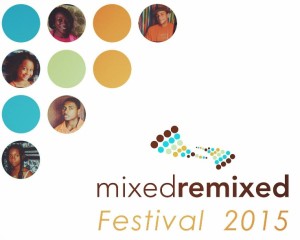 ies of multiracial Americans and families, the fastest growing demographic in the U.S. A free public event, the Festival brings together film and book lovers, innovative and emerging artists, and multiracial and multicultural families and individuals for workshops, readings, performances, and film screenings.
The Mixed Remixed Festival attracted close to 700 people from across the country last year and featured dozens of writers, scholars and performers including Comedy Central's hit comedic duo Key & Peele.
The Festival, a non-profit arts organization — is produced by The New York Times best-selling writer, Heidi Durrow, and talented team of volunteers.
"It's exciting to finally see mixed people and families in mainstream media and to connect with each other on-line," says Durrow who calls herself an Afro-Viking because she is African-American and Danish.  "But the Festival is the only nationwide cultural arts event where we get to meet each other and network."
The event is free and open to the public. Registration opens on April 20, 2015. The complete Festival schedule can be found online at www.mixedremixed.org.
Festival Highlights Include:
The Festival hosts the largest West Coast Loving Day Celebration, Saturday, June 13, 2015, at 6:30 p.m. with the annual Storyteller's Prize presentation and live show. The Festival will present the Storyteller's Prize to The Daily Show's Al Madrigal and New York Times best-selling writer Jamie Ford (Hotel on the Corner of Bitter and Sweet and Songs of Willow Frost) as part of a dynamic live show featuring comedians, spoken-word poets and soulful songstress Donn T, Questlove's sister, who will perform songs from her highly anticipated album Flight of the Donn T.
Families can enjoy interactive craft activities as well storytelling events as part of the Target Free Family Day.
The Festival will present two notable feature films including the award-winning feature documentary You Have His Eyes (dir. Christopher Wilson) about a transracial adoptees's search for his biological parents. Immediately following the screening there will be a panel discussion with transracial adoptees and activists. French Dirty (dirs. Wade Allain-Marcus and Jesse Allain-Marcus, award-winning executive producer Stephanie Allain).  The Festival is also pleased to present Mei Mei, the newest short film by two-time Peabody Award winner Dmae Roberts.
The Festival includes author readings by Mat Johnson, the author of the breakout hit Loving Day, about a mixed-race utopian society; Marie Mockett, author of Where the Dead Pause and the Japanese Say Goodbye; celebrated writer and Fresno's Poet Laureate James Tyner, and many others. Skylight Books is the Festival's official bookseller.
More than a dozen esteemed panelists will speak on diverse topics related to the Mixed experience, including: educator and community leader Marcia Dawkins, producer of the Tony Award-nominated play The Scottsboro Boys David Greer, and award-winning journalist Erika Hayasaki.
Festival sponsors include: Japanese American National Museum, Zerflin.com, The Black List, Cruise Invictus.
#