Mixed Remixed gets to know the vibrant Brazilian babe Joanna Franco and her experiences moving from colorful Rio de Janeiro to conservative Connecticut and her mixed experience hopping around the world!
Joanna Franco is one half of the dynamic duo, known the YouTube world over, as Damon & Jo! Their mantra Shut Up & Go is a fierce affirmation to simply stop whining about not having enough money or friends and just go travel the world and get lost in all it has to offer. Their previous slogan, Damon and Jo on a Dime, embodies their extremely entertaining approaches to seeing some of the hottest places around the world for rock bottom prices! These up and coming YouTubers are surely paving the way for a new kind of travel show!
The beautifully eccentric Jo is, as we can see, a mixed chick! Her big curly hair and bronzed skin scream to her multiracial Brazilian roots. In the following heart-to-heart, she shares her perspectives on being multiracial in Brazil, in the United States and the shocking responses she often receives on her travels! Now, Shut Up and Go with Mixed Remixed! 🙂
1. Can you tell us a little bit about your background and Brazilian heritage?
I was born in Rio de Janeiro, Brazil to a financially stable family that lived part-time in the city, and the other half of the time by the beach. My grandparents raised me because my mom owned a business and my dad only saw us on the weekends. While walking to get pizza one, my mom broke the news to us (my brother, sister and me), "we're moving to the United States." As a five year old, you don't even realize that you're in a city, state, or country, and the thought that you could live in other places is the last thing on your mind. Despite not understanding what the heck was happening, I was put on a plane to pursue the American dream in a completely "Wonder Bread" kind of a town in Connecticut. The reason why she moved? She thought it was better to sacrifice all that she knew for the possibility of greater opportunities for her kids.
2. How do you most comfortably identify, ethnically? Has this been particularly challenging for you?
This is always a funny question. I'll never forget in standardized tests, that horrific question of "Please select one of the following options to describe your ethnic background." I'm 100% Brazilian…I'm 100% Brazilian…I don't consider myself Hispanic, sure, I guess I could pass for Latina, but it always offended me that it was smacked together with Hispanic. I don't consider myself African American, because I'm African Brazilian, among many other things. My go-to choice was always "Other." From second grade onward, I considered myself the "Other."
3. Have you noticed major similarities or differences in the relevance of ethnicity and identity between America and Brazil?

Absolutely! In Brazil, color is something that's embraced. There are so many songs and movies that really glorify people, especially women, of color. Brazilian pop culture creates an essence that brown skin is vibrant, and beautiful.Very rarely do we speak about color in a negative way. 

Brazilian pop culture creates an essence that brown skin is vibrant, and beautiful.Very rarely do we speak about color in a negative way.

 Brazil's makeup is much more colorful and diversity is "last season's" topic. America is not as progressive when it comes to melanin levels… at least, not yet.
4. What have been some positive as well as negative experiences as it relates to being mixed race in your life thus far?
As a traveler, it's been interesting seeing the way different cultures embrace my brown skin. I'll
never forget first arriving in Egypt; my best friend's cousin, who was entirely Egyptian, told me to my face "Jojo, you're the first pretty black person I've ever met." Wowzers.
Similarly, in Latin America, it was also fascinating to see how locals made it a point to shout "blanquito y morena," to my best friend Damon (a white boy with blonde hair and blue eyes) and me to point out our polar opposite appearances.
I've learned to never take ignorance personally, and if anything, my mission has become to show racially sensitive people that we're all the same despite the color of our skin through filming Shut Up and Go.
 5. What ethnicities have you been mistaken for? How do you usually respond?
Hahaha… Just the other day someone called me a Blasian; aka a Black Asian. I love being racially ambiguous; it gives me the ability to gift others with an element of surprise and delight. I'm ALWAYS mistaken for being Black, Dominican, Islander, or something completely random like Cambodian… I think I just confuse people. The minute I say I'm Brazilian, their eyes usually open and say "OMG I WOULD'VE NEVER GUESSED."
6. Have you ever been ashamed  of being Multiracial? And what has the  most enlightening thing you've learned  as it relates to a embracing a mixed  identity?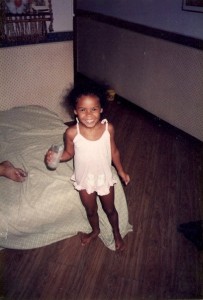 Absolutely not! I love being different. Ever  since I was little, I never liked main  characters; Mickey Mouse, Bugs Bunny,  Winnie the Pooh… No. I like the Goofys, the  Donalds, and the Piglets.
Similarly, being  Multiracial gives me that "I'm not the main character" feel that I thrive on to keep working harder, growing faster, and learning as much as I can to be happy.
  7. Now, we know you embrace the concept of just shutting up and going  but have there been places you've been anxious to venture to? If yes, why?
 I love feeding my anxiety as sick as that sounds. Exhibit A: I despise taking planes, yet I'm pursuing a travel series that requires me to be on planes constantly. I do it anyways because if I'm uncomfortable, I'm growing, and plus, a little palm sweat ain't never hurt nobody! In terms of other destinations that I want to visit, I want to go to as many conservative places as liberal places. I loved my experience in Egypt because I stuck out in so many ways; my skin color, my religion, and my overall hippie-like approach to life. If I can visit more destinations that have as many opposite cultural beliefs as I have, I'll be a happy girl.                  I'm thinking… Asia?
As Nicki Minaj would say, Jo's got that wavy Brazilian – embrace it girl! May your mixed experience only serve to further enrich your journey and positively touch those you stumble upon! #MixedRemixed #ShutUp&Go – Terri Rogers
For more from this author, visit One Love.