KPCC's Special Panel Discussion:
#Multicultivate: Can diversity really be taught?
We were thrilled to work with KPCC, Southern California's largest public radio station to present this special program at the 2014 Mixed Remixed Festival in June.  
The panel was moderated by KPCC reporter Josie Huang and panelists included Sonia Kang, Festival Founder Heidi Durrow, Jeffrey Moline, and Terrence Franklin.  The group had a wide-ranging and interesting conversation that used the interracial Cheerios commercial, Swiffer ad with a mixed-race family and the Honey Maid #ThisIsWholesome campaign as jumping off points to discuss how to talk to kids about difference and how to incorporate those lessons in every day life.  Panelists also discussed how we can help kids understand and appreciate the diversity of their own families and communities and what they see in other kids – and adults – around them.
You can view the panel discussion in its entirety here:
Panelist & Moderator Bios Below: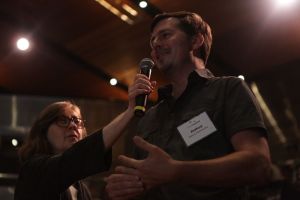 Heidi Durrow: The Girl Who Fell from the Sky (New York Times bestseller, PEN/Bellwether Prize for Socially Engaged Fiction winner) author; Mixed Remixed Festival founder; Ebony Magazine Power 100 Leader.
Terry Franklin is a trust and estates litigation attorney in Los Angeles and a founding partner in the law firm Sacks, Glazier, Franklin & Lodise, LLP. African-American and raised in Chicago, he moved to Los Angeles in the late 1980s with his former wife, another African-American whom he met in law school.  Terry and his former wife have two teenage daughters together, but they split up several years ago after he came out as gay. Terry is in a relationship with Jeffrey Moline whom he met in 2010 and all of them together (including his former wife's new husband) are creating a real life "Modern Family".
Jeffrey George Moline  is a singer/songwriter, musician and filmmaker. He uses his art and life to promote a solidarity of enlightened common people. Jeffrey was farm-raised in MN and lives in West Hollywood.
Sonia Smith-Kang is the Designer/Founder of Mixed Up Clothing, an ethnic-inspired children's fashion brand that celebrates global diversity and inclusion. Sonia is a popular multicultural blogger on her site, The Mixed Up Blog, as well as a regular contributor to Brooke Burke'sModern Mom. She is Vice-President of Multiracial Americans of Southern California (MASC), a non-profit organization that supports multiracial families and trans-racial adoptees. Sonia is co-founder of Multiculti Cuties, a culturally diverse community of moms, dads, and caregivers for social educational and celebratory events exploring the diversity of the world around them. Sonia is a wife and busy mom of 4, one of whom has special needs and involved in Special Olympics. Additionally, Sonia holds a BS in Nursing from the University of San Francisco and is a board member with the Northridge Hospital Foundation.

Josie Huang
Josie Huang is an Immigration and Emerging Communities Reporter for KPCC. Prior to that, she produced and reported for the station's Take Two and The Madeleine Brand Show.
Huang came to KPCC from the Maine Public Broadcasting Network, where she was a reporter and co-host of the evening drive-time news show. Before that, she reported for the Portland (Me.) Press Herald/Maine Sunday Telegram and The Republican newspaper in Springfield, Massachusetts. Assignments have taken her to Central America's largest dump, a coastal Mississippi town recovering from Hurricane Katrina and the US-Canada border, which American seniors were crossing to buy cheaper prescription drugs.
Huang grew up in Maryland and Taiwan and went to Dartmouth College in New Hampshire. She's happy to be near relatives, great cuisine and stand-up comedy venues.