Here's another installment of my blog post series on my person blog, Lightskinned-ed Girl, about how the "Are those your eyes?" question is equivalent to "What are you?" for me.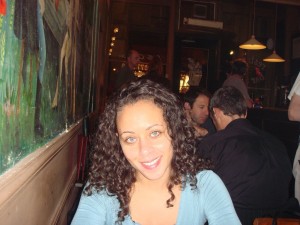 Got my haircut at the curly hair salon last week. I went to a different location this time and this time my stylist was Jeffrey. I don't know why I was surprised when Jeffrey introduced himself and I saw that he was Asian. I say this because I also thought: I don't think an Asian man has ever touched my hair before. Again, another weird thought, but there it was. Just to be clear: I felt no anxiety–I just made a note to self: first time! Should I be thinking these things? I don't know.
Jeffrey was incredibly personable and knowledgeable about hair. He gave me a detailed diagnosis of why I wasn't getting the results I wanted. It was a baseball cap day—there have been many of late–and he said the number one product I needed was WATER! I needed to use more water when I got my hair wet and added conditioner.
Now, I am not a chatterer by nature. But Jeffrey was. He asked where I was from. He asked what I did. He had gone through all of the standard cocktail questions and then said with his strong accent: "I like the color of your eyes. They are like my mom's . . . 
Read the rest of the post here.–Heidi Durrow