FOR IMMEDIATE RELEASE
MIXED REMIXED FESTIVAL
STORYTELLER'S PRIZE PRESENTATION HONORS:
TV & FILM STAR
TAYE DIGGS
AND AWARD-WINNING ILLUSTRATOR SHANE W. EVANS FOR
GROUND-BREAKING CHILDREN'S BOOK, MIXED ME
(Los Angeles, CA) Mixed Remixed Festival will present the annual Storyteller's Prizes to television and film star Taye Diggs and award-winning illustrator Shane W. Evans on June 11, 2016 at 6:30pm at the Japanese American National Museum in downtown Los Angeles, 100 N. Central Avenue, Los Angeles, CA 90012.
The Festival, which takes place June 10-11, celebrates stories of the Mixed racial and cultural experience and stories of multiracial Americans, the fastest growing demographic in America. A free public event, the Festival brings together film and book lovers, innovative and emerging artists, and multiracial families and individuals for workshops, readings, and film screenings.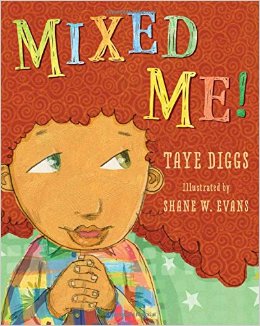 "We are ecstatic to honor Taye Diggs and Shane W. Evans for their work creating Mixed Me!, a ground-breaking children's book that features a mixed-race character," says Durrow who calls herself an Afro-Viking because she is African-American and Danish.
"Growing up I didn't have any images of families that looked like mine or any affirmation that I could claim the whole of my complicated heritage. Diggs' and Evans' book Mixed Me changes that for this increasingly multiracial generation."
The Storyteller's Prizes are awarded each year to artists, scholars, and community leaders who have shown a dedication to celebrating and illuminating the Mixed experience. Past honorees include Comedy Central's hit comedic duo Key & Peele, The Daily Show's Al Madrigal, New York Times bestselling writer Jamie Ford and Cheerios.
The Festival is produced by New York Times best-selling author Heidi Durrow (The Girl Who Fell From the Sky, Algonquin Books) and a wonderful group of volunteers.
The event is free and open to the public. Honorees have confirmed their attendance for the prize presentation, which will be presented as part of the Festival's dynamic live performance, featuring some of the best comedians, musicians, and spoken word poets. Registration will open April 22, 2016. For more information and the complete festival schedule, visit www.mixedremixed.org.
Festival sponsors include: Japanese American National Museum, Zapier, Zevia, Total Wine, Algonquin Books, My Family Builder.
The 2016 Storyteller's Prize recipients are:
Taye Diggs is an actor whose awards include the NAACP Image Award for Outstanding Supporting Actor in a Drama Series and Outstanding Actor in a Drama Series, and the Screen Actors Guild Award for Outstanding Performance by a Cast in a Motion Picture. His performance credits include motion pictures (The Best Man Holiday, How Stella Got Her Groove Back, Chicago), stage (Rent, Wicked), and television (The Good Wife, Murder in the First, Private Practice). He lives in Los Angeles and New York with his son, Walker.
Shane W. Evans in the illustrator of numerous aware-winning books for children, including Underground, winner of the Coretta Scott King Illustrator Award, We March, a Kirkus Reviews Best Book of 2012, and Osceola: Memories of a Sharecropper's Daughter, winner of the Boston Globe-Horn Book Award. He is also the illustrator of The Red Pencil by Andrea Davis Pinkney, an NAACP Image Award for Outstanding Literary Work for Youth/Teens finalist. He lives with his wife and daughter in Kansas City, Missouri.
Taye Diggs and Shane W. Evans's first book together, Chocolate Me!, was praised as "Sure to strike a chord with many young readers/listeners, and a variety of subjects, not just race," by School Library Journal, and as "embracing a difficult topic with wide arms" by Essence magazine.
#