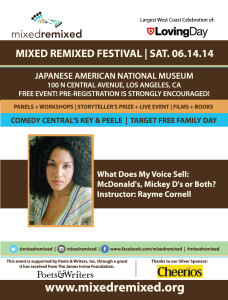 Don't miss this great workshop with voiceover artist and master teacher Rayme Cornell.
What Does Your Voice Sell: McDonald's or Mickey D's or Both?: Capitalizing on "Ambiguity" with Your Voice
June 14, 2014 11:00am-12:20pm
Instructor: Rayme Cornell
Pre-registration is strongly encouraged.  Save your spot by registering here.
In voice-over, knowledge is power.  What are your voice signatures?  Who is your voices' demographic?  Is your voice better suited for selling coconut water or cough drops?  Does your voice come across as an everyman or a wild child? During this workshop, actor, voice-over artist and theatre professor Rayme Cornell will help you hone in on what your voice does best.  Demographics, product categories and brands will be considered to help uncover where your voice connects.  Be prepared to get behind the mic and find out what your voice sells.
Rayme Cornell has worked in film, television, Off Broadway and with some of America's most prestigious Regional Theatres including, The Old Globe, The Alley, Crossroads, The Vinyard, Philadelphia Theatre Company, Primary Stages, The O'Neill, Missouri Rep., Unicorn Theatre and with New York's famous Acting Company.  She is also known for her extensive voice-over work representing such products as L'Oreal, Ford, Dunkin Donuts, Cingular, Singulair, Lifetime, WE, Oxygen Network, USA Network, MTV, VH1, BET, ESPN, History Channel, Discovery Channel, Republican and Democratic Party Candidates and many more.
Rayme is an Assistant Professor in the Theatre Department at UNLV.  She is a member of the Screen Actors Guild, American Federation of Television and Radio and Actors Equity Association. She received her B.A. from the University of Nevada Las Vegas and her MFA in Acting from the University of Missouri Kansas City in association with the Missouri Repertory Theatre.