An American in Germany but a German in America
My father was born to an American father and a German mother in the mid-60s, in the little ski town of Garmisch-Partenkirchen in Bavaria, Germany. His father was a war veteran who was stationed in Germany when he met the love of his life. My father spent the overwhelmingly majority of his life in Germany, with a a brief childhood in Chicago and a later stint in the Caribbean, which led him to meet my mother and his future wife.
I must admit that I never gave much thought to my father's bi-cultural heritage. It never occurred to me that he, too could feel caught been two worlds and felt the pressure to pick a side. As small-minded as it is of me to admit this, I always assumed that most people of "one" identifiable race would and possibly could never understood what it may be like to be stuck between not only two cultures but two races, such as in my case as a biracial person. Once I became aware of this, I realised I had to sit down with my dad and have a heart to heart about his experiences and his take on being white with a mixed background – a true Mixed Remixed tale.
Here's a summary of what he had to say:
"Here (in Germany), people always think that I'm an American and that annoys me because I was born and raised here – I'm German. At school, I was always the American as well – the army kid and this was about as positive as it was negative, and although nothing happened, I was always reminded that I was American and that, at some point, I should "go back to where I came from". So I was almost always seen as a foreigner by my peers.
"My sister had similar issues as well, especially because she had darker hair and was often mistaken as a Turk, which was tricky in a little town like ours in the 70s. She told me though, that as she got into high school things changed for her, positively. I can't say that things got worse or better for me because it's tough to judge situations like this where you're actually not sure what people may or may not have been saying behind your back."
"Although the way they made me feel did hurt me, I tried not to let it affect me. I realised early on that they were just uneducated people and I had as little as possible to do with them.
"Two of my cousins – both half Italian, half German with an Italian last name – definitely faced some issues as well. Both of them seemed to always be on a mission to find themselves – moving from place to place and job to job. I can't say that either one of them ever found what they were looking for, even as grown adults.
"My childhood buddies though, most of whom have remained my best buddies now, never saw me as "different". They often found it cool that my father was American and would always show a positive interest.
"Growing up I was always a mamas boy and when she died, I felt really lost at 16 – we all did. My mom had been the glue that kept the family together. This meant that my dad, who just lost the love of his life, had to take over and raise two older teenagers. My dad wasn't much of a talker;  he would just drink his coffee and read his newspapers or go golfing with his buddies. I think I longed for more guidance and direction, especially during this time that was very hard on all of us. I felt quite alone and had no idea what to do. Nevertheless, we all just got on with what we had to do – one way or another.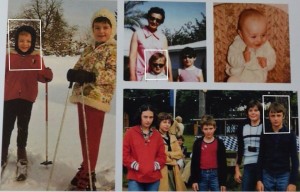 "When I go to the States, because my English doesn't have a distinctive American accent, people would often say, "Well hey, where is this guy from?" and then once you say Germany, they're like, "Oh! Okay, Germany," and then you're almost automatically a German again. This was actually OK though because prejudice was never really implied.
"Reactions to my heritage annoys me much more here because for starters, my last name, 'Rogers' always seemed to be a big deal growing up and no one could pronounce it although it's pretty easy to say."
"I sometimes get comments or strange looks up to this day from colleagues or passersby. In summer, I tan really well and I've often heard that I need to "take it easy" otherwise I'll be "too dark". Middle Eastern people and even southern Europeans have come up to me and asked me where I was from and my GP even asked me once, "Hey Alex, do you happen to have any black in your family? That's quite a colour you have."
"Funnily enough, although I did feel torn between the two as a little boy, I embraced the American in me more, because of my dad. When the ice hockey or football teams would play, for example I would always root for the Americans, not the Germans.
"My sister and I once drew a picture with both countries – on the one side, America was sunny and bright and represented happiness for us and on the other, Germany was dark and grey and just represented darkness. As kids we didn't like the distanced, stand-offish way that the Germans seemed to have. Americans had always welcomed us with open arms and had more of a "live and let live" attitude, which we embraced."   
FUNNY STORY:
"At 17, I made the conscious effort to improve my English and found an old cassette my dad mistakenly brought home of one of Eddie Murphy's standups, RAW. And this is actually how I got into understanding another aspect of American culture, one I'd never seen before. After that, I desperately wanted Eddie's followup standup show, Delirious, and asked one of my cousins in the States to get it for me and when my package finally arrived, I was stunned to find an old comedy with John Candy. No one could understand why I would have wanted the standup instead."
"I think life is meant to be accompanied by challenges and conflicts because otherwise it would be boring. And although, I don't think I've found myself quite yet, I am quite glad that I can claim two heritages. I often thought that it would be easier to just belong to one group but I see that as being very caged in. I tried picking one identity but that never worked for me because people will always try to corner you or make you choose.
"Whether being mixed or biracial/bicultural has more advantages or disadvantages is something that you have to come to terms with for yourself.
"So if I'm honest,
I'm just going to be me, take it or leave it.
"
Each experience speaks for itself and no matter how big or small, we all go through challenging times and once we understand that, that's ultimately how we will all be able to relate to and empathise with each other.
Written by Terri Rogers
Find me on YouTube: 
https://www.youtube.com/channel/UCou-DtmhXQ6chUqHYz1A6vw