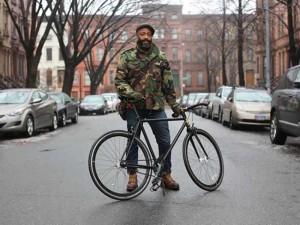 Patrick Dougher was featured in Humans of New York (HONY). He said:
"My dad was just a working class Irish dude. He drank himself to death when I was fifteen, but he was a good dad when he was sober. I remember him taking me to a gay wedding on Christopher Street to teach me tolerance. And that was back in 1971."
Dougher added more comments on facebook, following reactions from the public (both positive and not) to his appearance on HONY.
My dad was 1st generation Irish-American.. He was "black Irish" in that he was a white man with black hair and dark eyes.. My mom is African-American… They met in Bed-Stuy in the early 60's… I am the product of their union…it is very appropriate that my photo was posted on MLK day… I was a child of the civil rights movement and I was taught to "never judge others by their race, religion or sexual orientation but by the quality of their character" I have passed this teaching to my son..Peace
Patrick Dougher's inspiring words and story inspired discussion on both sides of the Atlantic.