We think it's always important to have media images that show positive representations of mixed-race and multiracial people and families. These are some of the large format photo and portrait books that we've loved over the years. Learn more about them.
No Difference Betwen Them, Robert Kalman. Here is the easiest way to describe this lovely book of portraits. "Robert Kalman's extraordinary portraits of interracial couples in No Difference Between Them show us what love looks like. It's not contrast but connect
ion that he has captured. Kalman meets the shared gaze of each couple with warmth. And whether they hold onto each other or not, the couples look like they belong together. Kalman's photographs witness their bond. No Difference Between Them is an essential record of what human connection looks like. And Kalman has done it with great skill and clearly great love." — Heidi W. Durrow
Part Asian, 100% Hapa, Kip Fulbeck This beautiful photo book has become a staple of mixed race studies and a must-have for all multiracial families. The photos are part of a traveling exhibit that has toured across the country a few times and always generates wonderful conversation. You will love this collection of portraits and the insights into how we see ourselves through the subjects' eyes.
Mixed: Portraits of Multiracial Kids, Kip Fulbeck
Fulbeck took his genius to a new project that focused exclusively on kids. It's not just a collection of cute "mixed-race" kids; the book also collects their thoughts on race and identity in their own words. There is a lot of wisdom from these young kids.
Blended Nation: Portraits and Interviews of Mixed Race Americans, Mike Tauber
Mike Tauber is a super-talented photographer and he has captured great portraits of mixed-race individuals as well as their stories in this large-format coffee table book. This would make a great gift!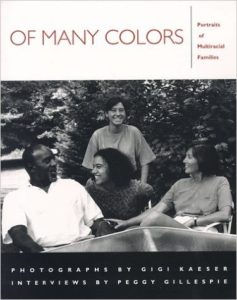 Of Many Colors: Portraits of Multiracial Families, Gigi Kaeser
This too was a wonderful traveling exhibit. What is wonderful about this book is that it portrays whole families in a really beautiful way. Here is a description of this book: "Of Many Colors tells the stories of thirty-nine families who have bridged the racial divide through interracial marriage or adoption. In these pages, parents and children speak candidly about their lives, their relationships, and the ways in which they have dealt with issues of race."