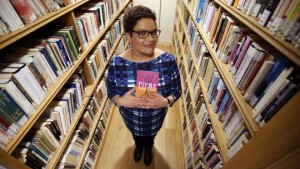 I'll be the first to admit I'd never heard the word "Makar", but was still intrigued when I read that in March 2016, poet Jackie Kay was announced as the latest one. It seems there was a tradition of  "Scottish courtly poets who flourished from about 1425 to 1550", that has recently been revived. So, is Jackie Kay Scotland's first mixed-race Makar? It's likely, but you never know.
[youtube]http://www.youtube.com/watch?v=HiEyuJTyAlI[/youtube]
If you're not familiar with her writing, all I can say is you should be! I particularly like her novel, Trumpet, with a mixed race central character, Joss, who has, (or had), a secret.
In her best-selling memoir, Red Dust Road, Kay describes the search for her birth parents – a young nurse from the Highlands and a Nigerian student at Aberdeen University in the early sixties.

Born in Edinburgh in 1961, Kay was adopted by a white communist couple and brought up in Glasgow, later discussing the rarity at that time of being a mixed-race child brought up by white parents.
Guardian Newspaper (March 2016)
[youtube]http://www.youtube.com/watch?v=6572Kv-O5w0[/youtube]
I really appreciate Kay's writing,the values she espouses, and  love the fact that she is a literary mixed/queer role model. Congratulations to Jackie Kay on making it as the first mixed Makar!
by Clare Ramsaran
@clareram