Children's Book Reading with Sebastian Jones co-author of I am Mixed
June 14, 2014 12:15pm-12:40pm
Children's Book Author Sebastian Jones
Reading from children's book I Am Mixed by Garcelle Beauvais and Sebastian Jones.
12:15pm
SEBASTIAN A. JONES
Sebastian is the president of Stranger Comics. He has been involved in entertainment since an early age in England. After having left for America at the age of 18, he founded and ran the critically acclaimed MVP Records at the age of 20, globally releasing 25 albums that included such artists as James Brown, John Coltrane, Marvin Gaye, and Billie Holiday, with a client list including EMI-Capitol, Sony, WB, BMG, and Universal. He transitioned from music to film when he collaborated with filmmakers The Polish Brothers to create Salvador for Boom! Studios.  Following that, he wrote and directed the comedy pilot Cast Off starring Scoot McNairy (Argo) and Scott Adsit (30 Rock). Jones then transitioned to feature writing and adapted several of his stories into graphic novel form when he founded Stranger Comics. Stranger's maiden title is The Untamed, from which Jones directed and produced a motion comic in addition to creating the comic book.  Under Stranger Kids (Stranger Comics' children's division) Jones has released the,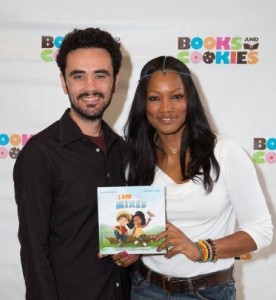 I Am Book Series (I Am Mixed and I Am Living in 2 Homes), which he authored with Garcelle Beauvais (Flight, White House Down, The Jamie Foxx Show, Franklin & Bash) with foreword endorsement by Halle Berry.
GARCELLE BEAUVAIS                                                                                                            
Haitian-born actress Garcelle Beauvais immigrated to the United States at the age of seven, and has since charmed audiences with her dramatic and comedic abilities. Recent projects include "White House Down," "Flight," "And Then There Was You," and "Small Time."  Garcelle is also a co-host for E!'s "Fashion Police" and "Access Hollywood Live" on NBC, and was recently named one of the 50 Most Beautiful Women 2014 by People Magazine.  Above all, Garcelle's most important job is being a mother. She was inspired to write the children's book series entitled 'I AM,' addressing identity issues relevant to many children today.  The first book "I AM MIXED," celebrating diversity in all cultures, was released in the summer of 2013, and the second in the series, "I AM LIVING IN TWO HOMES," to help children and parent navigate the complexities of divorce, will be released August 19th, 2014.  Looking back, Garcelle got her start when she began modeling at the age of seventeen and easily transitioned to acting in the Aaron Spelling series "Models, Inc." After that, she co-starred opposite Jamie Foxx for five years on the popular WB sitcom "The Jamie Foxx Show." For four seasons she also starred on the highly rated Emmy© Award-winning series "NYPD Blue." She was recently a series regular on TNT's "Franklin & Bash." Other television credits include: "Curb Your Enthusiasm", "Arrested Development," "The Exes," "Eyes" "Human Target," "Crash," "The Bernie Mac Show," and "The Bonnie Hunt Show."