We've got the largest West Coast celebration of Loving Day going on and we hope that you'll join us!
Celebrate Loving Day at our Loving Day Reception Saturday June 11 starting at 5:30pm.  It's FREE!  A wine and cheese reception kicks off the night (yes, the wine, beer and cheese are FREE too!) at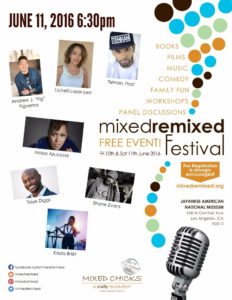 5:30pm.  The Storyteller's Prize Presentation and Live Show starts at 6:30pm and wow what a show it is!  Check out the line up here.
Film/TV Star Taye Diggs and Shane Evans To Be Honored for Mixed Me!
We're honoring Taye Diggs and Shane Evans for their awesome book Mixed Me! And yes, the show is FREE too!
Immediately following the show, we will have a short dessert reception and our Storyteller's Prize Honorees Taye Diggs and Shane Evans will sign copies of their book Mixed Me!  Our wonderful bookseller Skylight Books will be on hand to sell copies!
HAVE YOU SIGNED THE PETITION TO MAKE LOVING DAY A FEDERAL OBSERVANCE?
And one more thing: Have you taken 5 seconds to sign the petition to make Loving Day a federal observance?  If not do it now! Sign here!