MIXED REMIXED FESTIVAL
CELEBRATING MULTICULTURAL FAMILIES AND STORIES
SLATED FOR JUNE 2015:
SUBMISSIONS NOW OPEN
(Los Angeles, CA) The Mixed Remixed Festival, the nation's premiere multicultural film, book and performance festival, will take place at the Japanese American National Museum, 100 N. Central Avenue on June 13, 2015 in downtown Los Angeles.
The Mixed Remixed Festival celebrates stories of multiracial and multicultural families, interracial and intercultural relationships, transracial and transcultural adoptions, and individuals who identify as multiracial, multicultural, Hapa or mixed.  The Festival will present several films, readings, workshops, panel presentations, and will include family activities and a live performance.
The 2015 Festival will bring together innovative artists, film and book lovers, multiracial individuals and families, the country's fastest growing demographic according to recent Census reports.  Events are free and open to the public.
The inaugural Festival in 2014 showcased appearances by Comedy Central's Key & Peele, actress Amandla Stenberg (The Hunger Games), and actress and singer Erica Gimpel (Fame, Profiler) among others.  The Festival also presented Cheerios with its Storyteller's Prize for its celebrated series of commercials featuring an interracial family.
The call for submissions for films, workshops, panel presentations, readings and performances by writers, actors, comedians, spoken word artists and musicians is open now until Jan. 15, 2015.  There is no submission fee.  For specific submissions requirements and festival information check here.
About the Organizer
Heidi W. Durrow Founder/Executive Producer is the New York Times best-selling author of The Girl Who Fell From the Sky (Algonquin Books), which received writer Barbara Kingsolver's PEN/Bellwether Prize for Literature of Social Change. The Girl Who Fell From the Sky has been hailed as one of the Best Novels of 2010 by the Washington Post, and a Top 10 Book of 2010 by The Oregonian.  Ebony Magazine named Durrow as one of its Power 100 Leaders of 2010 along with writers Edwidge Danticat and Malcolm Gladwell.  Durrow was nominated for a 2011 NAACP Image Award for Outstanding Literary Debut.  Durrow has been featured as a leading expert on multiracial and multicultural issues and identity by the NBC Nightly News, the New York Times, CNN, National Public Radio, the BBC, Ebony Magazine and the San Francisco Chronicle. She is an occasional contributor to National Public Radio and blogs for the Huffington Post.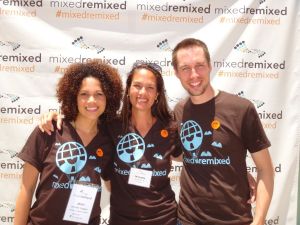 Past Sponsors
Cheerios, Miss Jessie's, Pitfire Artisan Pizza, Poets & Writers, Zerflin, and Cards in Color.
#