Identity, Race or Otherwise, Is Your Lived Experience
by Heidi W. Durrow
Heidi W. Durrow is the author of "The Girl Who Fell From the Sky," a novel.
JUNE 16, 2015
"Are those your eyes?" It's a question I'm asked almost daily as a brown-skinned woman who has dark curly hair and bright blue eyes.
My father was African-American and my mother is Danish and I'm ethnically ambiguous. I look Dominican to Dominicans, Bangladeshi to Bangladeshis, Puerto Rican to Puerto Ricans, and Greek to Greeks. I'm a reluctant shape-shifter.
I learned that because of the peculiar way that math and race work together in America, I was black. But those facts conflicted with my actual experience.
So I couldn't help but celebrate when I saw the headlines last week that multiracial Americans are the country's fastest-growing population. In the future, it's possible that people who look like me will be the norm.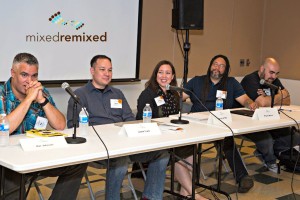 This past weekend some 700 attendees celebrated stories of mixed-race people and families at the Mixed Remixed Festival — an annual film, book and performance festival in Los Angeles. There was much discussion of the bizarre case of Rachel Dolezal, the now past president of Spokane's N.A.A.C.P. chapter, who was outed by her family as passing as black.
Read the rest of the article here.