Multiracial People and Families Gather to Share Their Stories
By Michele Beller
"Everybody has a story," began Zachary Green, a professor of Leadership Practice at the University of Maryland and one of the workshop leaders for the first workshop of my day. "But sometimes, that story never gets heard," Dr. Green continued. This intro was to be the beginning of a rich and delicious day packed with workshops and panels and community and conversation in my day of Mixed Remixed Festival 2016 bliss.
As Zachary explained what we were about to embark upon, the room continued to fill with more and more beautiful multiracial faces, all ages and all shades of the mixed race rainbow; the influx didn't stop until people were sitting, standing, propped against the back wall, filling every available space of the room. This is going to be a popular workshop, I thought to myself. The energy was palpable. I leaned forward in anticipation. "The purpose of this workshop is twofold," Zachary continued. "One of it is to introduce you to a form of dialogue called the Dialogue Circle; the second part is jazz improvisation." I didn't know exactly where we would be going in the next hour or so, but I knew it would be good.
Dialogue Circles Help Us Learn How to Share Multiracial and Mixed Race Stories
"The quintessence of this workshop is that it will be experiential," said Angelo Lewis, our second of three workshop leaders. He made it clear that they as workshop leaders were not here to tell us what to do or what to think. "We will invite you to tell your story," he finished. Angelo, author, life coach, and co-founder of the Diversity and Spirituality Network, is also the creator of the Dialogue Circle technique. (More on Angelo Lewis here http://www.angelojohnlewis.com/about/ and Dialogue Circle uses here: http://www.dialogue-circles.com/.)
In describing the value of the Dialogue Circle, Angelo explained a scenario to which many of us could relate: a group of people come to a meeting—maybe two different departments; everyone has their own agenda. In the course of the meeting, they hash it out; often in this scenario, somebody wins and somebody loses. Dialogue is a method for short circuiting that process. The idea of Dialogue Circles is that exchanging stories builds common ground—and everybody wins.
Cindy Franklin, the third member of our workshop team, is an executive coach and co-founder of the Diversity and Spirituality Network; she then discussed the idea that we all have identities—often more than one, and some of them hidden. Many heads were nodding in agreement as she spoke. By sharing parts of ourselves together, she said, we can learn what others expect from us based on what they see or understand, and honor our humanity as a group.
The Idea of "Mixed Race" or "Multiracial" Is Not Just One Thing, Idea or Experience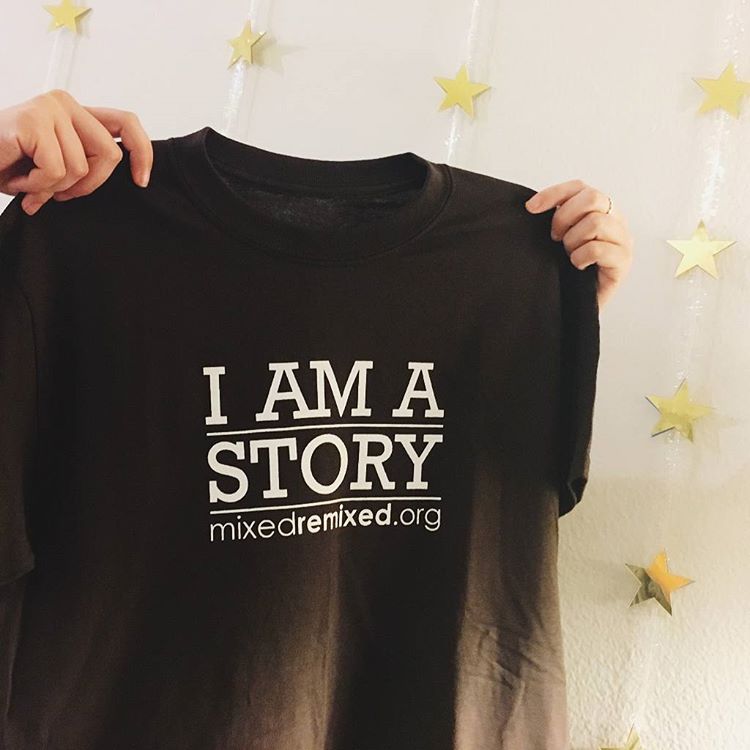 After the introductions by our fearless leaders, we were then encouraged to go around the room and introduce ourselves with the following opener: "When I think of my identity, I think of myself as…."  What followed became a rich tapestry of multiracial voices and experiences; I felt privileged to bear witness. The voices that emerged weaved an embroidery of uniqueness and yet felt familiar at the same time. As people shared their stories, I felt warmly embraced by the inclusion of every combination of race, culture and ethnicity you could think of—plus a few you hadn't. It was a reminder that the idea of "mixed race" or "multiracial" is not just one thing or idea or experience. I never felt more proud to be part of this community called mixed race. One participant summed it up brilliantly when she began her intro, "I feel lucky to be Mixed." Amen, hooray, and brava!
One nice detail of the workshop was the reminder to breathe, to slow down, and to listen, as we shared in turn and as we considered each other's' stories. As a reminder and point of focus, periodically Zachary asked us to spend a moment being silent and focusing on our breath; he rang a Tibetan singing bowl, the pure and lyrical sounds of which had a calming and even meditative effect on the group.
As we delved deeper into the Dialogue Circle process and prepared to reveal even more of ourselves in the process of our dialogues, Zachary directed us to a flip chart with Dialogue Guidelines for us to follow: Speak from experience; Suspend assumptions; Listen as colleagues; Defer clarification; and Focus on learning.
Our last discussion question was a great one: describe a time, Angelo prompted, when you experienced a conflict between your public identity and your less visible hidden identity (or identities). The stories that were shared as we went around the room answering this query were sometimes deeply personal, often very poignant, and at times just plain funny; the sense of community in the group became even stronger.
To wind the workshop down, the group was asked to take another breath (enter Tibetan singing bowl) and consider the sharing that just took place, then call out one or two words that came to us; many words were offered, such as community; validation; belonging; and more. Finally, by way of closing, Zachary asked us to again call out and answer the ultimate question: "What are you going to do with this experience as you continue on from here?"
~Michele Beller, Festival Blogger, https://randomaunt.wordpress.com/