Shoving my White Parent in the Closet
Now, as controversial as this title seems, the reality behind it really isn't.

We all know that the main goal growing up is to fit in and to be as well liked as possible by our peers. In other words, the objective is to NOT stand out.

Growing up both in the Caribbean and in Europe at varying stages of my life has exposed me not only to the world around me but also to myself.

In the Caribbean, when I was around my black family, friends and peers, I often felt out of place if my white parent was present. This screams to some level of self-hate or issue with coming from a mixed background, but I promise you this was not the case. The silly comments people may make or the strange looks you get make you feel uncomfortable, I mean, as I just said, my whole goal was to blend in as much as possible but with this, I or we I should say, stood out like sore thumbs. This discomfort was enough for me to not want my "other" parent to be with me in situations where I knew for sure it could be awkward on some level. Likewise, when I was in Europe I felt the same way about my "black" parent picking me up from school or simple things like that. Now, today I feel sorry for my childhood-self who felt that there was something to want to "hide" but children internalise situations and reactions differently than I believe adults do. Around my white school mates and friends in the Caribbean as well as in Europe itself, I definitely preferred having my white parent around with me. It almost felt like that made me part of "the club" – which is exactly how I felt with my black parent in my Afro-Caribbean community as well.  


In the respective scenarios,

each parent would serve in their own right as my "hall pass"

, I know that sounds really bizarre and borderline shallow, but as a kid I definitely felt that being under the wing of each my white parent in a white community or with my black parent in a black community, I would be free from what I feared most: negative attention. At the end of the day, it always came down to which parent would be most suitable for which social setting, meaning if one would stand out more, it would be more likely that I would feel more uncomfortable. And on the flip side, if I knew for sure that one parent would fit in more and be more "socially acceptable" to that particular environment, I would rather be with them alone in that context. Now, this theory was definitely not bulletproof as I do not 100% resemble either one of my parents, so there was still attention and odd looks but much more subtle – which I admit I was more willing to accept.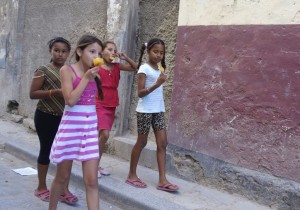 The pressure to want to fit in and to fly under the radar was so real that these very sad sentiments were sort of a regular thing for me. Now it's definitely not as dramatic as it may be coming across on paper, but it was definitely something I have always been aware of. I've always gotten comments, stares, stereotypes, race jokes and even questions about particular races; as if my being biracial made me a spokesperson for these other groups as well. The journey towards self-discovery is a never-ending, constantly winding road and you have to be willing to explore some really dark parts to get to the light.
Me shoving my "white" parent in the closet was merely my way of trying to blend in given my social surroundings and represented my lack of self-assurance, as I became hyperaware with the reactions I could potentially receive from others. Coming to terms with yourself and loving every aspect of yourself is one step closer to embracing the beauty that is you – mixed or not.
Written by TERRI ROGERS