People often ask us for parenting resources and we're happy to help. Usually we have done it piecemeal — one email at a time. But we've decided we're going to pull together as much information for you and post it here on the Mixed Remixed Festival blog.
Here is just the beginning of the research we've done:
5 Essential Resources for Parents of Mixed Race and Multiracial Kids
Mixed Like Us: 5 Ways to Support Biracial Children at Home and in School by Kimberly Cooper via Huffington Post
Cooper has written widely about this subject and has been active in discussion multiracial experience for decades now. She asks a simple and important question in her article: "But what if mixed-race and biracial children were supported for an identity which embraced both parents?" She then outlines some concrete steps that you can take to make that happen.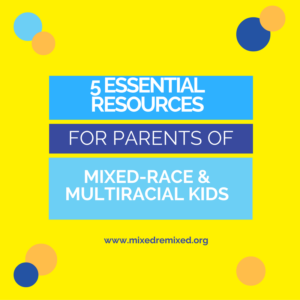 2. Raising Mixed Race: Multiracial Asian Children in a Post-Racial World by Sharon Chang
This book has received a lot of attention since its publication last year. It's unique in that it focuses specifically on Asian-American mixed kids, a topic that is often given short-shrift in a country that thinks of race in black and white.
3. 7 Things Your Parents Didn't Tell You about Raising a Biracial Child by Deidre Anthony via Huffington Post
Anthony is a great blogger to follow and this post is really important because she tells truths you may not be able to accept yet, but you need to hear as the parent of a mixed kid. Make sure you check this out.
4. How to Raise Confident Multiracial Children by Chantilly Patino via Bicultural Familia
The best thing that you can do as a parent of a kid of any polka dot or stripe is raise a confident child–one who is comfortable in his or her own skin. That becomes a challenge often for mixed-race kids who are defined by what they look like more than what their experience may be. This is a great article about how to instill confidence in multiracial kids. And Patino's blog as a whole is a great resource too!
5. What I wish white moms of biracial kids like me understood by Rachel Charlene Lewis
Lewis does a fine job of sharing some of the ideas that I try to share with white moms who look to me to advice. Again, she has some tough lessons for parents to learn, but I guarantee they are lessons you will want to learn.
We'll keep bringing you more resources. Do you have any that you think we should share?


Join us for the largest gathering of multiracial and mixed-race families and people in June 10, 2017 for the 4th Annual Mixed Remixed Festival.