Mixed Race Baby Love: Real Talk About Reproduction, Fertility & Mixed Identity
This is a special film screening and reading that focuses on what it means to be mixed and considering parenthood.  The program will screen the short documentary, Chill, dir. Jennifer Frappier and feature a reading by Faith Adiele.  Immediately following the screening and reading, we'll discuss how reproduction, fertility and mixed-race identity play into questions about becoming a parent.
Moderator: TBA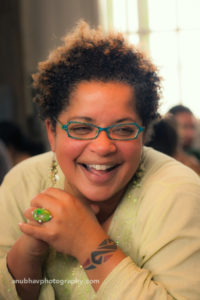 Faith Adiele is author of the memoirs, The Nigerian-Nordic Girl's Guide to Lady Problems and Meeting Faith, which won the PEN Open Book Award. She is also writer/narrator/subject of My Journey Home, a PBS documentary about her mixed family, and editor of Coming of Age Around the World: A Multicultural Anthology. She teaches at VONA: Summer Workshops for Writers of Color, California College of the Arts, and The San Francisco Writers' Grotto.
Chill dir. Jennifer Frappier Running Time 21 minutes
Chill is a touching documentary about a single woman fighting to preserve her dreams of motherhood through egg freezing in her mid-thirties.  Weeks before she decided to freeze her eggs, actor, Jennifer Frappier began documenting her thoughts on fertility and parenthood.  Throughout the film, Jennifer shares her story with vulnerability, courage and humor.  Chill is more than a film; it's a mindset.  It's about determination, living with intention and being true to yourself.  This story is as original as it is relatable and when it comes to fertility, educational as it is eye opening.  Ultimately, Chill is an inspirational film about hope, love and family.
Jennifer can be seen in national commercials for companies such as: Anheuser-Busch, Comcast, iChooseAdoption, McDonald's, Microsoft, Skechers and Sony PSP.  Jennifer is excited to share her first documentary. Chill is a film that introduces "social egg freezing" and follows the modern-day journey to motherhood. Jennifer's egg freezing story has been featured in the Italian fashion magazine Gracia, on FOX, KTLA's Health Smart, Australia's Sunday Night, ABC's 20/20 with Aditi Roy and on the front page of the Los Angeles Times.