Short Film Programs 3: Multiracial and Mixed-Race Filmmakers Q&A
June 11, 2016 2:30pm-4:00pm with filmmaker Q&A
Good Luck Soup
dir. Matthew Hashiguchi
Running Time: 10 minutes
June 11, 2016 2:30pm-4:00pm with filmmaker Q&A
After years of rejecting his Asian American identity, a grandson attempts to reconnect with his culture through the customs and traditions of his grandmother.
Matthew Hashiguchi is an Assistant Professor in Multimedia Film & Production at Georgia Southern University and a documentary filmmaker whose work focuses on the diverse cultural, social and ethnic stories of American society. In May 2013, his short documentary film, People Aren't All Bad, screened at the American Pavilion Emerging Filmmaker Showcase at the Cannes Film Festival and was also a finalist for Smithsonian Magazine's 2014 In Motion Video Contest. Another film, The Lower 9, received a grant and Second Place Gold Circle Award from The Caucus for Producers, Writers and Directors Foundation and an award for Best Short Documentary at the Spring 2012 Asians on Film Festival.

Matthew recently completed Good Luck Soup, a transmedia documentary project on the relocation and assimilation of Japanese Americans after leaving the internment camps that is told through both a feature-length film and a web-based, interactive documentary.
Invisible Roots: Afro-Mexicans in Southern California
dirs. Tiffany Walton, Lizz Mullis
Running Time: 21 minutes
June 11, 2016 2:30pm-4:00pm with filmmaker Q&A
Mexico is home to many African-descended peoples who have now immigrated to Southern California. Through intimate portraits, members of three Afro-Mexican families discuss what it means to be Mexican with African roots, roots that are often forgotten, denied and frequently despised.
Lizz is a recent graduate of the University of Southern California and is pursuing a career in film, television, and communication. Influenced by her experience as a photographer and editor, Lizz has ventured into creating both fiction and non-fiction film narratives. Her ultimate goals are to create content that challenges viewers' thought processes and invites social change.
Tiffany Walton is a Los Angeles-based independent filmmaker.  As a writer and producer, Tiffany creates content for the lifestyle site, SkinGab.  She is a recent graduate of USC's Annenberg Graduate School of Journalism. Tiffany first became familiar with Afro-Mexicans after seeing Tony Gleaton's photography of the African presence in Mexico, while she was a teen.  Later, she read an article in the LA Times, by John Mitchell, about Afro-Mexicans living in Southern California and wanted to learn more about their stories.  
Japandering: Cosplay Cafe
dirs. Anna Suzuki & Omar Shaukat
Running Time: 8 minutes
June 11, 2016 2:30pm-4:00pm with filmmaker Q&A
A dark comedy about a Japanese-American woman, Anna, who lives in Brooklyn with her Japanese mom and Jewish dad. In her 20s, she visits Tokyo for the first time to confront the burden of being biracial, feeling like an outsider in her own culture, and connect with her Japanese roots.The series was shot on location in Tokyo with a local crew.
Anna Suzuki is a NYC-based comedian, actor, and writer. Credits include Orange is the New Black, High Maintenance (HBO), I am Michael (with James Franco, Zachary Quinto). Currently Anna is part of the all-Asian sketch team, Azn Pop, and co-host of the variety show/podcast, The Soul Glo Project. Anna co-created the dark comedy series, Japandering, based on her experience growing up biracial in Japan. More at japandering.com, helloannasuzuki.com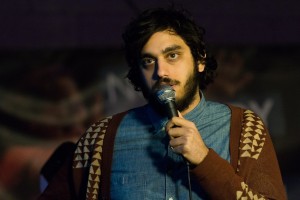 Omar Shaukat is a Pakistani-American stand-up comedian now living in Brooklyn, New York. He has appeared on season 3 of Comedy Central's "Broad City". Omar has opened for Ron Funches on the road and performed at the New York Comedy Festival. He is the co-creator alongside Anna Suzuki of the comedic webseries Japandering.
Crazy Mixed Up World
dir. Carolyn Battle-Cochrane
Running Time 15 minutes
June 11, 2016 2:30pm-4:00pm with filmmaker Q&A
New York born Carolyn Battle-Cochrane, writer, producer and director, is best known for her critically acclaimed documentary series "Biracial Not Black Damn It!" featured on CNN and other national/international media outlets.  Battle-Cochrane is currently in post production on two feature length documentaries. "Unconscious Bias – Unarmed (Jon & Cache), an intimate back-story to a headline news tragedy and "Crazy, Mixed-Up World", a discussion about identity and race post Obama administration.
Evoking the Mulatto: It's Not a Cool Word [Episode One]
dir. Lindsay Harris
Running Time: 7:08 minutes
June 11, 2016 2:30pm-4:00pm with filmmaker Q&A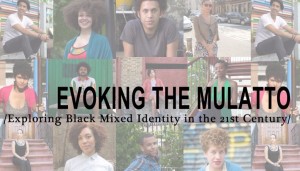 Created by Lindsay C. Harris, Evoking the Mulatto is a transmedia project exploring black mixed identity in the 21st century, through the lens of the history of racial classification in the United States. Featuring filmed interviews with young artists and activists, photographic portraits, and historical mappings, this web-based interactive video art project seeks to address a relevant contemporary issue by glimpsing at its chronicle.
Lindsay Catherine Harris is a Brooklyn-based media maker, activist, and educator. Originally from the Southwest, Lindsay works to create multimedia projects exploring identity, presence, and history. She has also designed and taught programs in new media, digital storytelling, art, and social justice to young people at museums and community-based orgs around NYC, currently expanding youth programs at the Brooklyn Museum. She holds a B.A. in Africana Studies & Art from Vassar College and M.A. in Arts Politics from NYU. She has received the Flaherty Film Seminar Fellowship and Black Public Media Digital Arts Fellowship. She is also one of the 2016 Laundromat Project Create Change Fellows.