The Mixed Remixed Festival was so excited to screen, Sleeping with the Fishes, the directorial feature debut of Nicole Gomez Fisher who just weeks after our screening won Best Director at the Imagen Awards.  (So well-deserved Nicole!  We love you!)
We were so lucky to have Nicole Gomez Fisher attend and participate in a Q&A led by Festival Team Leader extraordinaire, Rayme Cornell, directly following the film.  We can't wait to see what Nicole does next!
Sleeping with the Fishes is a comedy which captures one girl's journey of self-discovery and the dynamics of her zany family.  With its fair share of "ay dios mio" and "oy vey" moments, the film comes to life with colorful characters and one-liners that can only be found in a Latino Jewish home in Brooklyn.
A slice-of-life, Sleeping with the Fishes features an incredible Latino cast of established and rising talent who come together to tell a relatable and comically poignant story.
Cast includes: Gina Rodriguez (yes her!), Ana Ortiz (yes her too!), Steven Strait, Priscilla Lopez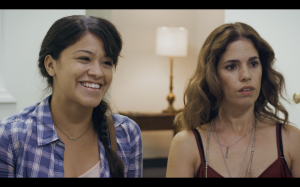 Nicole Gomez Fisher is the writer and director of Sleeping with the Fishes, an official selection of the 2013 Brooklyn Film Festival. She's just finished writing her second feature, Good Egg, an action comedy, as well as spec scripts for Modern Family and The Big Bang Theory. Nicole has received international recognition for her comedy writing. Both Sleeping with the Fishes and her original sitcom, This is My Life, won praise at recent screenwriting competitions. Starting out as an actress and stand-up comic from Brooklyn, Nicole is a founding member of The Hot Tamales Live!, the Latina comedy tour produced by Eva Longoria. She went on to write and perform her acclaimed one-woman show, Mixed, at the New York Underground Comedy Festival. Nicole's film, television and theater acting credits include a recurring role on 24, General Hospital, Empire (an Official Selection of the Sundance Film Festival), Frankie and Johnny are Married (starring Mandy Patinkin), Habla for HBO Latino and Birth Marks (part of The Ensemble Studios Marathon Series). Nicole's work has been featured in the New York Times, Time Out NY, Backstage, Theater Mania and 15 Minutes Magazine. Sleeping with the Fishes marks Nicole's directorial debut.