It's officially the age of YouTubers – funny vloggers, how-tos and everyday insights! What many are perhaps not as aware of is the booming community of family vloggers who take you through their days and make you feel like you're hanging out with their cool family. 
One family that is truly dominating this market at the moment would be the Nive Nulls of Kansas City!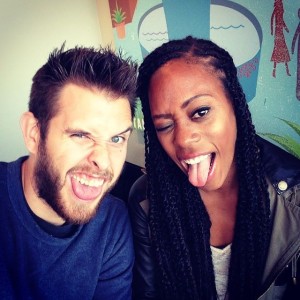 Mixed Remixed had the chance to catch up with the Nive Nulls, where we spoke about race in their relationship, tackling the "What Are You?" question and the beauty of love crossing borders!
Who Are The Nulls?
Well, you have the hilarious Austin, his gorgeously quirky wife Brittany and their two bundles of joy Audrianna and Kailand. And soon they'll be welcoming a third Null to the bunch! Congrats!
Did we mention they're a mixed fam?!
The Nive Nulls Interview:
MR:
How would you two describe the relevance or presence of race in your early relationship (as well as now, if applicable)?
NN: 
Early on, we definitely talked about race and how it related to our relationship a lot more. We would make more jokes, goof around more and just focus on it a decent amount. Now, we've kind of matured our relationship more and we don't make as big of a deal about the fact that we're an interracial couple. However, it's still a part of our life because race relations in general are things that we experience outside of our personal relationship.
MR:
Sidenote: I spied that your FB page is a fan of Love Crosses Borders which is of course awesome! Was either one of you hesitant to spring into an interracial relationship / did you guys even really think about that?
NN: 
We love "Love Crosses Borders" on Facebook! They've been super supportive of us and always share a lot of our stuff. No, we never thought about [us] as an interracial relationship.We just liked each other's personality and thought each other were hot. lol
MR:
What would you say you've learned about each other and perhaps, people in general, through breaking down color barriers through love?
NN: 
We've learned to accept the differences we have and embrace them. It also has taught us to just live and not worry about other people's opinions. If someone is ignorant, it's their problem and it's sad for them. It doesn't affect us.
MR:
How do you feel about the racially charged "What Are You?" question and how do you guys think you'll advise Kailand and Audri as they get older? (If entertaining that question is even an option)
NN:
I mean, it's kind of brash way to ask something but it's not that big of a deal to us. If they ask our kids, we'll tell them they can say "I'm Kailand" or "I'm Audri" but we also are fine with them answering "I'm biracial and adorable" lol
MR:
Your YouTube Channel is one of those few that is almost always free of the cruel YT trolls, how would you describe the continuously loving support of your online Nive Null Family?
NN: 
I think it's because we're pretty real in our vlogs. We don't try to put on a front and make our life look SO FUN AND AMAZING AND LOOK AT US ALL DRESSED UP AND PERFECT! We just live. We talk about when we're down or sad or happy or mad or whatever the case may be. It's important to be yourself because that's the only way people will come and stick around.
MR:
Mixed family aside, what do you think separates The Nive Nulls from other Youtube families? (Definitely, NO shade to your YouTube-fam buddies!)
NN: 
Haha! Let's start drama!!! lol jk jk. No, I'd just say it's probably our personalities. All of the YT families out there have their own unique niche and vibe to their channel. I would describe ours as fun, funny and real. Also, our kids are hilarious and Audri says some of the funniest things I've ever heard a human say. lol
Mixed Remixed wishes The Nive Nulls nothing but happiness as they welcome their third baby Null later this year! Check them out on YouTube!
[youtube width="500″ height="400″]https://www.youtube.com/watch?v=oKwyg3xEVZg[/youtube]