We're Reading Gayle Brandeis' The Book of Dead Birds for November's Mixed Race & Multiracial Book Club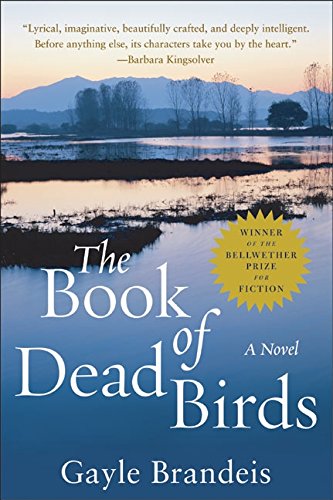 Our inaugural book club discussion of Mat Johnson's Loving Day was a big hit!  Well, we're excited to keep it going with our November read: Gayle Brandeis' The Book of Dead Birds which won the PEN/Bellwether Prize.
Join us for our on-line chat and call-in discussion on 11/10 at 6pm EASTERN/3pm PACIFIC.  And guess what?  We will have the author Gayle Brandeis on the line with us to answer your questions as well.  You don't want to miss this.  Get a copy of The Book of Dead Birds now! And share your thoughts with our Goodreads Book Club Group in advance of our call next month!
The Book of Dead Birds is an intimate portrait of a young woman at a defining moment in her life, who stands at the intersection of two cultures and races.
Here is the book synopsis:
"Ava Sing Lo has been accidentally killing her mother's birds since she was a little girl. Now in her twenties, Ava leaves her native San Diego for the Salton Sea, where she volunteers to help environmental activists save thousands of birds poisoned by agricultural runoff.
Helen, her mother, has been haunted by her past for decades. As a young girl in Korea, Helen was drawn into prostitution on a segregated American army base. Several brutal years passed before a young white American soldier married her and brought her to California. When she gave birth to a black baby, her new husband quickly abandoned her, and she was left to fend for herself and her daughter in a foreign country.
With great beauty and lyricism, The Book of Dead Birds captures a young woman's struggle to come to terms with her mother's terrible past while she searches for her own place in the world."
Here is praise for The Book of Dead Birds:
The Book of Dead Birds has an edgy beauty that enhances perfectly the seriousness of its contents."
-TONI MORRISON
"A moving and perceptive novel."
-O: THE OPRAH MAGAZINE
You can buy a copy of the e-book here.  Or order it from your local indie bookstore.  We recommend
Skylight Books
, our favorite bookstore in the LA area.
Learn More About the Mixed Remixed Festival On-Line Book Club
We choose books that we think will speak to you and deal with mixed-race and multiracial families and people.  Each month we host a call-in podcast so that we can discuss the book together and if we get more interest we will start an on-line Twitter chat.  Can't make those events? Well then you can keep the conversation going in our new Goodreads Book Club all month long.  Join the group now!